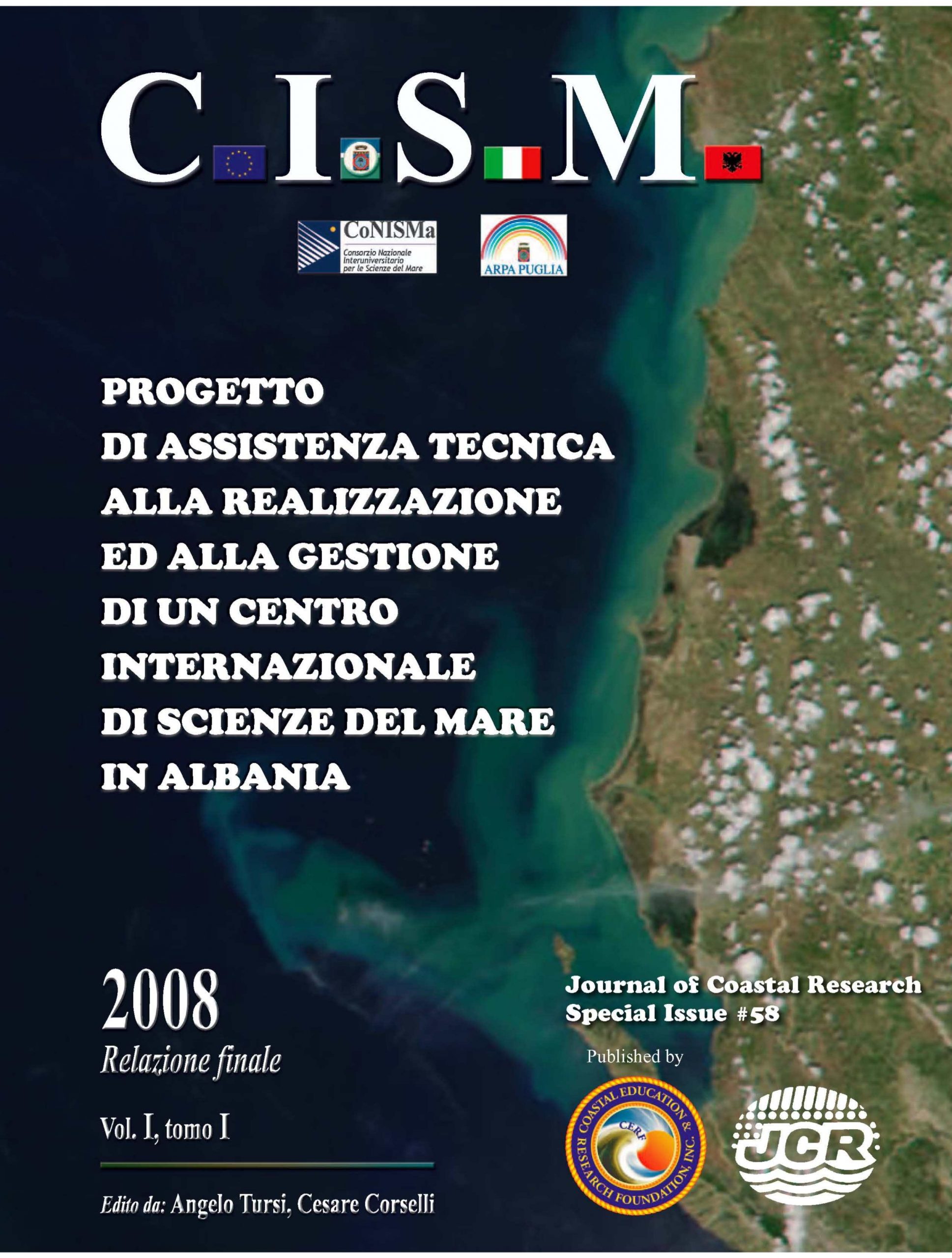 Jurnal of Coastal Research
Special issue n° 58 – Winter 2011
INTERREG III A ITALIA-ALBANIA
Asse II – Misura 2.1 – Azione 1: Leader partner: Arpa Puglia
Contents:
The Vlora Project – Angelo Tursi, Cesare Corselli, Salvatore Bushati, and Sajmir Beqiraj.
Geomorphology of the Vlora Gulf Seafl oor: Results from Multibeam and High-Resolution Seismic Data – A. Savini, C. Corselli, C. Durmishi, S. Marku, D. Morelli, and C. Tessarolo
Recent Sedimentation in the Vlora Gulf: Grain Size and Mineralogical Analyses from Some Cores in a E-W Transect – Francesco Loiacono, Antonio De Marco, Gaetano Dicoladonato,
Marta V. Gadaleta, and Cercis Durmishi.
Carbonate Coastal Aquifer of Vlora Bay and Groundwater Submarine Discharge (Southwestern Albania) – Maurizio Polemio, Arben Pambuku, Pier Paolo Limoni, and Olga Petrucci.
Circulation and Lagrangian Dispersal in the Gulf of Vlora (Albania) – Giorgio Budillon, Achille Ciappa, Alqi Çullaj, Serena Massolo, Niko Pano, Paola Rivaro, and Giancarlo Spezie.
Heavy Metals Distribution in Suspended Particulate Matter and Sediment Collected from Vlora Bay (Albania): A Methodological Approach for Metal Pollution Evaluation – Paola Rivaro, Alqi Çullaj, Roberto Frache, – Cristina Lagomarsino, Serena Massolo, Maria Cristina De Mattia, and Nicola Ungano.
Trophic Characterization of the Pelagic Ecosystem in Vlora Bay (Albania) – Olga Mangoni, Francesca Margiotta, Maria Saggiomo, Immacolata Santarpia, Giorgio Budillon, and Vincenzo Saggiamo.
Space Distribution of Phyto- and Microzooplankton in the Vlora Bay (Southern Albania, Mediterranean Sea) – Salvatore Moscatello, Carmela Caroppo, Edmond Hajdëri, and Genuario Belmonte.
Bioecological Study of the Benthic Communities on the Soft Bottom of the Vlora Gulf (Albania) – P. Maiorano, F. Mastrototaro, S. Beqiraj, G. Costantino, L. Kashta, M. Gherardi, L. Sion, P. D'Ambrosio, R. Carlucci, G. D'Onghia, and A. Tursi.
Effects of Unplanned Development on Marine Biodiversity: A Lesson from Albania (Central Mediterranean Sea) – Simonetta Fraschetti, Antonio Terlizzi, Giuseppe Guarnieri, Fausto Pizzolante, Paolo D'Ambrosio, Porzia Maiorano, Saimir Beqiraj, and Ferdinando Boero.
Ecotoxicological Assessment of Vlora Bay (Albania) by a Biomonitoring Study Using an Integrated Approach of Sublethal Toxicological Effects and Contaminant Levels in Bioindicator Species – I. Corsi, A. Tabaku, A. Nuro, S. Beqiraj, E. Marku, G. Perra, L. Tafaj, D. Baroni, D. Bocari, C. Guerranti, A. Cullaj, M. Mariottini, L. Shundi, V. Volpi, S. Zucchi, A.M. Pastore, A. Iacocca, A. Trisciani, M. Graziosi, M. Piccinetti, T. Benincasa, and S. Focardi.