Rome, February 27th and 28th 2012
CNR, Piazzale Aldo Moro, 7
The European Union, so far, supported marine research focused on off shore areas and in the deep sea. Coastal areas have been mostly neglected, since they are under the jurisdiction of the single states of the Union, and are managed with national  policies. All states established Marine Protected Areas to foster the protection of marine environments. MPAs, however, were designed almost as isolated entities, disconnected from other environments and from each other. Times are ripe to pass from the "single MPA" vision to the "networks of MPAs" vision. COCONET will review all available knowledge on Mediterranean and Black Sea MPAs and, through focused research, will set up a series of guidelines aimed at the establishment of networks of MPAs in the two seas. This will include also the open and the deep sea. The problem is not only exquisitely ecological, and will involve also social and political problems, linked to the merge of different policies and principles in different States. Together with the guidelines for MPA networks, COCONET will also address the problem of Off Shore Wind Farms because the generation of clean energy is crucial for the protection of the environment. In Northern Europe OWF are very developed, whereas they are absent in the Southern European seas. Are they feasible? How do they cope with the natural environment and with the local economies? COCONET will try to answer these questions.
39 Institutes from 22 Countries are involved in the project, with hundreds of scientists. A group has been created that will compact the scientific communities of many countries and will enhance the cultural relationships among them, building important capacities to improve nature preservation in our seas.
– How to get to CNR Note: The entrance to the Meeting rooms is on "Via dei Marrucini" (Left side of the main entrance of the CNR).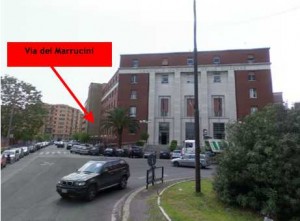 – Agenda:
Day 1 – 27th  February 2012
| | |
| --- | --- |
| 09.00 – 09.45 | Participants registration |
| 09.45 – 10.30 | Welcome speech of authorities from Italian Ministries and hosting institutions |
| 10.30 –11.00 | Overview and overall objectives of the CoCoNet Project (Ferdinando Boero) |
| 11.00 –11.30 | COFFEE BREAK |
| 11.30 –11.45 | Overview of Perseus Project (Vangelis Papathanassiou) |
| 11.45 –12.00 | Overview of Vectors Project (Stefano Piraino) |
| 12.00 –12.15 | E.U. Officer speech (Jacques Fuchs) |
| 12.15- 12.45 | Presentation of CoCoNet web application PROGECTA (Claudia Cesarini) |
| 12.45 –13.00 | Presentation of administrative tasks and related issues (Annamaria Toncini) |
| 13.00 – 14.30 | LUNCH |
| 14.30 –18.00 | WP meetings (scientific and technical) |
Day 2 – 28th  February 2012
| | |
| --- | --- |
| 09.00-09.30 | WP Leader 2 (Simona Fraschetti) "Habitat mapping: state of knowledge, data integration and scenarios of protection" |
| 09.30-10.00 | WP Leader 3 (Lisandro Benedetti Cecchi) "Species assemblages, dispersal and connectivity" |
| 10.00-10.30 | WP Leader 4 (Enrique Macpherson) "Scenarios of environmental change (natural and human induced). Role and response of the MPAs." |
| 10.30-11.00 | COFFEE BREAK |
| 11.00-11.30 | WP Leader 5 (Takvor Soukissian) "Offshore wind farms and marine protected areas" |
| 11.30-12.00 | WP Leader 6 (Paul Goriup) "MPA Socio Economic Issues, Management and Legislation" |
| 12.00-12.30 | WP Leader 7 (Bayram Ozturk) "Information Dissemination and Outreach" |
| 12.30-13.00 | WP Leader 8 (Bella Galil) "Training and capacity building" |
| 13.00-14.30 | LUNCH |
| 14.30-15.00 | WP Leader 9 (Federica Foglini) "Data Management and synthesis" |
| 15.00-15.30 | WP Leader 10 (Micu Dragos) "Black Sea Pilot Project" |
| 15.30-16.00 | WP Leader 11 (Edmond Hajderi) "Mediterranean Sea Pilot Project" |
| 16.00-16.30 | COFFEE BREAK |
| 16.30-18.00 | Joint meeting of the General Assembly and Executive Board for decisions, appointments and changes in the DOW |
– Partners: